Energy and Environmental Trading: US Law and Taxation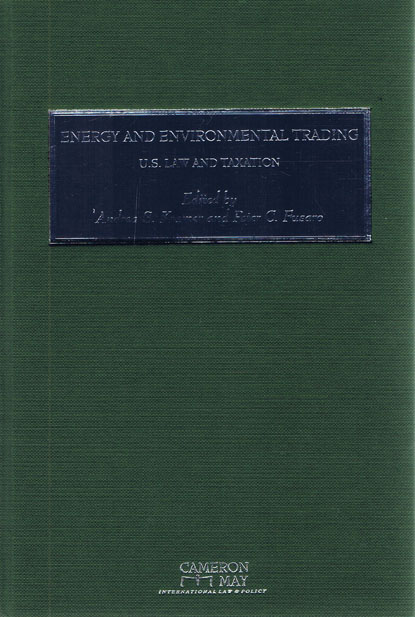 ISBN13: 9781905017744
Published: August 2008
Publisher: Cameron May Ltd
Country of Publication: UK
Format: Hardback
Price: £130.00

Despatched in 2 to 4 days.
Are you prepared for the expansion of energy and environmental trading into the global financial markets? These growing markets are rife with trading and legal risks. This book, written for practitioners and laymen alike, will arm you with crucial knowledge about recent significant market, regulatory and legal developments.
Ranging from the fallout from Enron's bankruptcy and the near demise of energy merchant trading to the expansion of energy and environmental trading (after legal and regulatory changes provided new opportunities along with new industry challenges), to the new contractual frameworks seeking to address issues such as climate change, this book's discussions of these new energy and environmental markets and their developing framework of corporate, regulatory, tax and financial law show history in the making.
Leading legal and industry professionals share their knowledge, experience, and opinions, providing key insights into the future of the law and regulation of energy and environmental trading. These experts delve deeply into themes such as energy regulation, trading documentation, bankruptcy law, creditors rights, U.S. tax law and much, much more.
Topics include:-
Energy and environmental trading markets
The energy regulatory environment
Deregulation efforts and consequences
Energy-industry standard form trading contracts
Electricity efficiency and demand response
Weather derivatives and weather insurance products
Force majeure case law
Developing commoditization of environmental attributes
Renewable energy credits and the master agreement developed to trade them
The historical panorama of exchange-traded energy products
Hedge fund trading in the energy markets
Protecting against reputational and operational risks when trading energy
Securities litigation in the context of energy trading
How energy trades fare in bankruptcies
Key US, state, and local income tax issues for energy trading
Special tax rules for exchange-traded energy contracts
Selling production tax credits