Responsibility and Liability in the Context of Transboundary Movements of Hazardous Wastes by Sea: Existing Rules and the 1999 Liability Protocol to the Basel Convention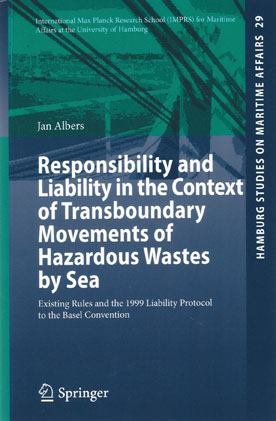 ISBN13: 9783662433485
Published: October 2014
Publisher: Springer-Verlag
Country of Publication: Germany
Format: Paperback
Price: £109.99

The term "hazardous wastes" covers a wide range of disused products and production wastes generated not only in industrial sectors, but also in all areas of everyday life. Hazardous wastes are to a large extent shipped by sea to third countries for recycling or disposal.
While the procedural requirements for such movements are laid out in the 1989 Basel Convention, explicit rules of responsibility and liability for resulting damages are neither provided by the Basel Convention nor by other international conventions. The Liability Protocol to the Basel Convention of 1999 has not yet entered into force.
This book examines the existing rules of responsibility and liability applying to States and private persons and outlines the conditions under which liability may be incurred. Subsequently, the advantages and shortcomings of the 1999 Liability Protocol are analyzed. Although this Protocol faces substantial political headwind, from a legal perspective it includes principally useful and reasonable approaches and should therefore be ratified.