The Economic and Monetary Union: Constitutional and Institutional Aspects of the Economic Governance within the EU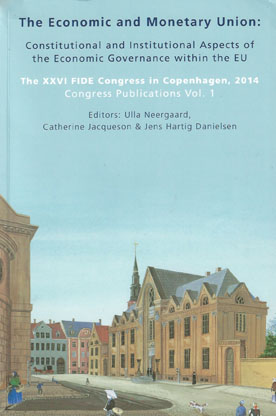 ISBN13: 9788757429220
Published: October 2014
Publisher: DJOF Publishing
Country of Publication: Denmark
Format: Paperback
Price: £60.00

Despatched in 13 to 15 days.
The proceedings of XXVI FIDE Congress in Copenhagen in 2014 are published in three volumes, where this book concerns: The Economic and Monetary Union: Constitutional and Institutional Aspects of the Economic Governance within the EU.
The three editors, Professor and President of FIDE, Ulla Neergaard, Associate Professor and Secretary General of FIDE, Catherine Jacqueson, and Professor Jens Hartig Danielsen, are all distinguished scholars within EU law. The General Rapporteur, Professor Fabian Amtenbrink, is one of the absolute leading scholars within the particular field of economic governance in Europe. The Institutional Rapporteur, Jean-Paul Keppenne, is Legal Advisor at the Legal Service of the Commission of the European Union, and has long and acknowledged experience in the area.
Their impressive analyses are contained in this book together with important and valuable studies on the implementation of the relevant EU law in the Member States all over Europe. Thereby, this book hopefully constitutes a goldmine for comparative and EU lawyers in the field of economic governance.