Arbitration in Switzerland: A Practitioner's Handbook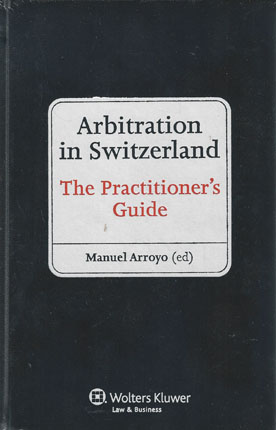 ISBN13: 9789041133779
Published: October 2013
Publisher: Kluwer Law International
Country of Publication: The Netherlands
Format: Hardback
Price: £224.00

This incomparable book clearly shows practitioners how to navigate all the practical details of any kind of arbitration in any of the many venues located in Switzerland.
Whether a dispute involves intellectual property, construction, trusts, sports, investment, or any of the other problem areas where arbitration promises the best resolution, arbitrators and the parties they represent will find all the information and guidance they need here. Included are such topics as the following (and much more), each covered in a variety of institutional and case-related contexts:
selection and appointment of arbitrators;
conduct of the arbitration;
interim measures, including those issued by emergency arbitrators;
taking of evidence;
parallel proceedings;
multi-party and multi-contract arbitrations;
multi-tiered and hybrid arbitration clauses;
recognition and enforcement of awards, including grounds for refusal;
setting aside of awards; and
revision of awards.
The book also draws on Switzerland's large body of case law on arbitration, which substantially enhances reliability and predictability for foreign parties. There is every indication that Switzerland will continue to follow developments in international arbitration and take the needs of arbitration users into consideration in an environment of increased competition.
Accordingly, there are few practitioners who will not welcome and benefit from this very practical and forward-looking book, written by Swiss arbitration practitioners for all practitioners.