Simplification of Debt Collection in the EU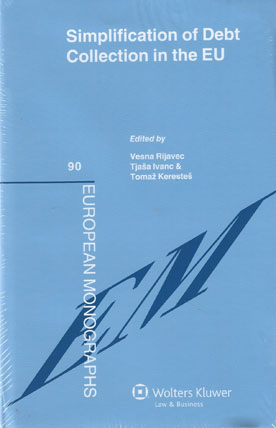 ISBN13: 9789041148544
Published: September 2014
Publisher: Kluwer Law International
Country of Publication: The Netherlands
Format: Hardback
Price: £136.00

Despatched in 9 to 11 days.
Following the venerable principle that "justice delayed is justice denied", the European Council has called for "further reduction of the intermediate measures which are still required to enable the recognition and enforcement of a decision or judgment", and the Commission has also emphasised that the traditional exequatur required to enforce debt collection is an obstacle to the free circulation of judgments, entails unnecessary costs and delays for the parties, and discourages companies and citizens. However, even EU law cannot break the classic division between trial in the Member State of origin and enforcement in the Member State of enforcement. Efficiency of enforcement remains a national matter.
This in-depth commentary and analysis on the three main EU regulations facilitating cross-border debt collection compares them amongst themselves and with the solutions relating to recognition and enforcement in the enacted but not yet enforced Recast Brussels I Regulation. In country-by-country analyses written by local experts, the implementation of these measures in 13 Member States is accompanied with evaluation of national summary procedures. Emphasis throughout is on the analysis of legal remedies safeguarding the rights of parties, as access to remedies is among the chief factors determining the speed and success of proceedings.
Among the issues and topics covered are the following:
how to easily choose a competent court;
service of documents;
state of IT operational options in judicial procedures;
safeguarding the debtor's rights;
non-compliance with jurisdiction concerning insurance, consumer contracts, and contracts of employment;
changes of parties and legal succession during the procedure;
interim decisions;
small claims procedure;
electronic enforcement procedure;
opposition by the defendant;
effects of the absence of timely defence;
appeal against judgment; and
problems caused by language and by different definitions of key notions.
For practitioners and academics, the book represents a giant step forward in the further legal development of this area, showing to what extent the abolition of exequatur facilitates debt recovery and what other options might be available. Taken together, the national studies show that the European special procedures could replace, with advantage, national procedures of similar nature and even introduce much more efficient and fair ways of debt collection. Policymakers, regulators, and legislators will be encouraged to undertake measures to facilitate cooperation between authorities and still ensure the judicial protection of individual rights, yet leaving the reserved legislative area of the Member States intact.