International Bank Insolvencies: A Central Bank Perspective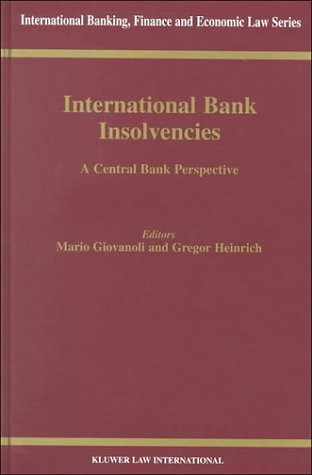 ISBN13: 9789041197283
ISBN: 9041197281
Published: September 1999
Publisher: Kluwer Law International
Country of Publication: The Netherlands
Format: Hardback
Price: £200.00

Despatched in 11 to 13 days.
The globalization of the world economy poses significant challenges for policy makers, regulators and legal professionals. The Asian and Brazilian financial crises have shown that difficulties in the banking sectors of some economies can have serious repercussions across world financial markets.
It is clear that a sound legal infrastructure is crucial to promote financial stability in this global market. Particularly in the case of international bank failures, the need for harmonized and effective international insolvency procedures is becoming increasingly apparent.
It is against this background that the Bank for International Settlements organised a workshop on International Bank Insolvencies in the summer of 1998. This work presents the edited workshop papers by expert lawyers from over 20 national central banks, the European Central Bank, the Basle Committee on Banking Supervision and the UN Commission on International Trade Law. Nineteen country reports provide a comprehensive overview of central banks and other institutions responsible for banking supervision and the co-ordination between authorities involved in insolvency procedures.
The authors further discuss the instruments employed for crisis prevention and resolution and issues arising in the aftermath of a bank failure in the respective jurisdictions. In addition, twelve expert papers discuss issues ranging from specific national experiences to attempts at co-operation and harmonisation at regional and international level.
The book further includes in annex the text of the UNCITRAL Model Law on Cross-Border Insolvency and the EC Finality Directive.