Intellectual Property Law in Korea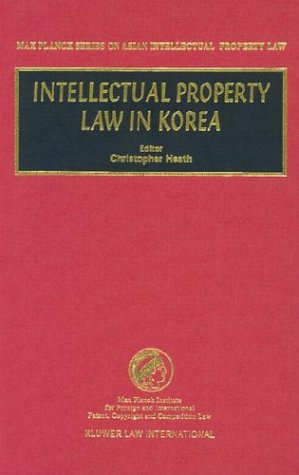 ISBN13: 9789041199065
ISBN: 9041199063
Published: April 2003
Publisher: Kluwer Law International
Country of Publication: The Netherlands
Format: Hardback
Price: Out of print

Although Korea is fully assimilated into the contemporary international intellectual property regime, seekers of intellectual property rights in that country may still encounter vestiges of both the system applied during the Japanese occupation (1910-1945), which was based on common law, and the subsequent civil codes designed to replace it. It is particularly in the areas of administrative and enforcement procedure that practitioners require specialized knowledge if they are to move confidently and ensure adequate legal protection in Korea of patents, copyrights, designs, trade marks, computer programs and other intangibles.
This title aims to provide this knowledge in considerable depth.;The text spares no pains to clarify all the essential details of practice and procedure in the major areas of intellectual property law in Korea. For example, it includes specific guidance on such matters as the following: the ""pipeline"" protection available for certain chemical and pharmaceutical patents; the domain or jurisdiction of various institutions administering intellectual property rights; how a patent attorney qualifies for practice; how infringement cases move through the Korean court system; available remedies and defenses in infringement actions; the limited interplay of civil and criminal actions; the use of the Customs Act to prohibit importation; technical evaluation of utility models; and tax rules on transfer and license.
The author's approach throughout is eminently practical, although legal rationales and underpinnings are fully explained when necessary. If a particular area of law has been significantly affected by a judicial decision (as in the important trade mark cases Chanel and Pfizer), the chapter covering that area provides a full and clear analysis. An appendix supplies the full texts of the major Korean laws in the field in force as of 2002. As one of the world's leaders in the design and manufacture of semiconductor chips and other computer hardware and software, Korea accommodates a great number of intellectual property applications and registrations.
Its intellectual property rights system is sound and well-established, and offers excellent protection to those who come to it prepared. This book hopes to be a means to that end.