Corporate Governance and Legal Reform in China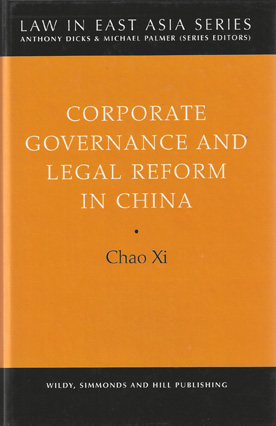 ISBN13: 9780854900367
Published: March 2009
Publisher: Wildy, Simmonds and Hill Publishing
Country of Publication: UK
Format: Hardback
Price: £65.00

State-owned enterprise (SOE) reform has been at the heart of China's post-Mao economic reforms. Since early 1990s, a large number of Chinese SOEs have been transformed into joint stock companies, and many of them are now listed on China's domestic stock exchanges. The corporatisation and listing of the SOEs did not, however, bring about significant improvement in their performance or in the manner in which they are governed.
This book examines the effectiveness of the key legal reforms that have been put in place for addressing the governance issues facing Chinese listed companies. The focus is on three important – but understudied – aspects of corporate governance reform in China: regulation of the private sales of corporate control, institutional shareholder activism, and board level monitoring and control. In addition, this book attempts to explore a political economy understanding of formal legal changes in China with particular reference to China's corporate board reform.
ABOUT THE AUTHOR
Chao Xi is in the Faculty of Law, Chinese University of Hong Kong, and previously taught at the University of London as a Visiting Lecturer in Law. He is the co-author of Doing Business in China (Routledge, 2008) and has contributed articles to a range of journals, including the Journal of Comparative Law and the Journal of Chinese Economic and Business Studies.
REVIEWS
'... a most useful addition to the growing literature on Chinese corporate governance' Chris Riley, Journal of Business Law.