The Revival of Private Property and Its Limits in Post-Mao China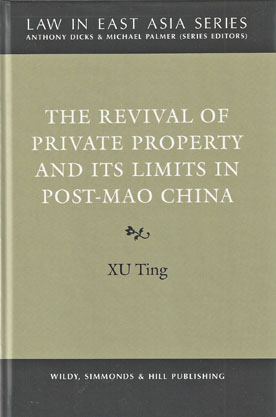 ISBN13: 9780854901333
Published: January 2014
Publisher: Wildy, Simmonds and Hill Publishing
Country of Publication: UK
Format: Hardback
Price: £65.00

This monograph examines the nature and significance of the re-emergence of private property in rapidly changing post-Mao China.
In examining this issue, the study explores a key dichotomy in Chinese law, that is, 'public versus private', and examines the manner in which the Chinese define ownership. The study stresses the importance of lack of clarity in the boundaries between the public and the private in property rights.
While there is a limited move towards the recognition of private property in real estate in contemporary China, this analysis also shows that ownership in the law, and ownership as understood and practised socially, often diverge significantly.
From the Qing dynasty reforms of the late nineteenth century onwards, 'modernist' law and entrenched social practice have often opposed each other. In contrast to the official, and indeed legal, support for unitary and exclusive property rights, the reality of the property regime has been a fragmentation of property rights. 'Modern' conceptions and theories of property rights emerged in the context of nation-building from the late Qing onwards, and unitary and exclusive property rights were considered as 'badges' of modernity.
These conceptions and theories served (and still serve) the purposes of control and governance but were, and still are, often resisted in social practice and popular thinking, leading to alienation and conflict. As a result, analysis of the nature and the social and political implications of re-emerging private property rights provides important insights for our understanding of the changing nature of modern China.