Re-Ordering Hong Kong: Decolonisation and the Hong Kong Bill of Rights Ordinance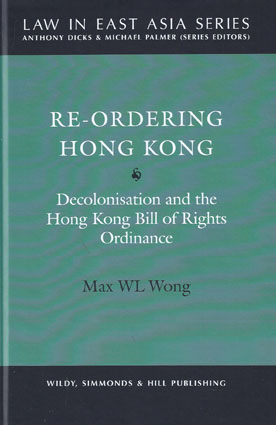 ISBN13: 9780854902309
Published: September 2017
Publisher: Wildy, Simmonds and Hill Publishing
Country of Publication: UK
Format: Hardback
Price: £65.00

The promulgation of the Hong Kong Bill of Rights Ordinance (HKBORO) denotes a change in British decolonisation policy from that which prevailed in the 1950s and 1960s – the protection of minorities through a Bill of Rights.
The HKBORO is uniquely interesting. The decision to incorporate it into Hong Kong law was political, and aimed at restoring the confidence of the Hong Kong people following the suppression of the Tiananmen democratic movement in Beijing in 1989.
In addition, Hong Kong was the only Crown colony to entrench the International Covenant on Civil and Political Rights indirectly in a constitutional document -- in the case of Hong Kong, the Letters Patent, the constitution for Hong Kong before 1997. This incorporation and entrenchment was intended to ensure that the HKBORO continued in force under the Basic Law of the Hong Kong SAR, the "mini-constitution" after 1997.
The author suggests that Hong Kong provides a successful model for the courts in other common law jurisdiction in their efforts to incorporate international human rights jurisprudence into decision-making in the criminal law field. This book is not only suitable for practitioners, law teachers and students, but also for researchers with interests in UK colonial history, civil liberties and political science.