China's Psychiatric Inquisition: Dissent, Psychiatry and the Law in Post-1949 China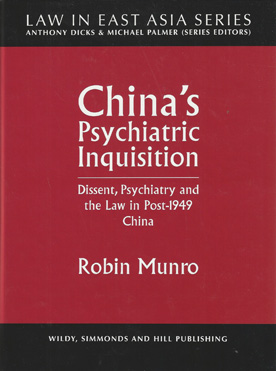 ISBN13: 9781898029854
ISBN: 1898029857
Published: October 2006
Publisher: Wildy, Simmonds and Hill Publishing
Country of Publication: UK
Format: Hardback
Price: £65.00

This study examines the misuse of forensic psychiatry custody in China since the late 1950s as an adjunct means – alongside the legal authorities' more frequent use of arrest, trial and imprisonment – of punishing and silencing political dissidents, spiritual nonconformists, whistleblowers and other critics of official corruption or malfeasance.
The principal questions addressed in the book are: how common have such practices been in China during the successive main periods in the country's post-1949 history; how have these repressive practices been theorized and handled under the country's evolving criminal justice system; and why have the security authorities resorted to this, at first sight, uncharacteristically sophisticated form of state repression?
On the basis of extensive archival research into several decades of China's legal and psychiatric literature, the study concludes that the use of psychiatric custody against dissidents and other similar groups has been more widespread in China than it was in the former Soviet Union.
This is a pathbreaking work in China studies, a chilling account of psychiatric abuse of political dissidents dating back to the early days of the Chinese regime and extending to the present. Munro's remarkable research brings to light the sufferings of thousands of previously unsuspected victims, some detailed in heart-breaking case studies.
Far from being an obscure corner of the Chinese system, the gulag of psychiatric abuse proves to be diagnostic of fundamental flaws in Chinese-style rule of law and state-dominated medicine. Munro's earlier research sparked an international campaign to seek improvements. This new, full account of his findings will stand as a classic of human rights research while it deepens our understanding of the Chinese legal and political system.
Andrew J. Nathan, Class of 1919 Professor of Political Science, Columbia University