Vicarious Liability in the Law of Torts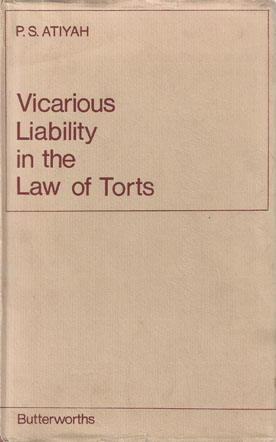 ISBN13: 004337
ISBN: 004337
Published: June 1967
Publisher: Butterworth & Co
Country of Publication: UK
Format: Hardback
Price: Out of print

Out of Print
Atiyah incorporates all the latest developments which have combined to make vicarious liability such an important facet of contemporary law. In view of the uniformity of this branch of the law in all the common law countries, the author (as well as dealing in depth with England and Scotland) has covered the case law of Australia, New Zealand, U.S.A., Canada and South Africa.
The author discusses how the two principles-that one is liable for one's own acts or omissions, and "no liability without fault"-have merged with the doctrine of vicarious liability to promote justice. From the practitioner's angle, he also explains the circumstances in which the relationship between employer and employee or principal and agent can render the former liable for the wrongful acts of the latter.
Mr. Atiyah is a well-known author whose views on a subject as lrnportant as vicarious liability will prove of vital interest to practitioners, especially those engaged in commercial and insurance practice, and will provide essential reading for university and other students.