New Journal of European Criminal Law: Print + Institutional Electronic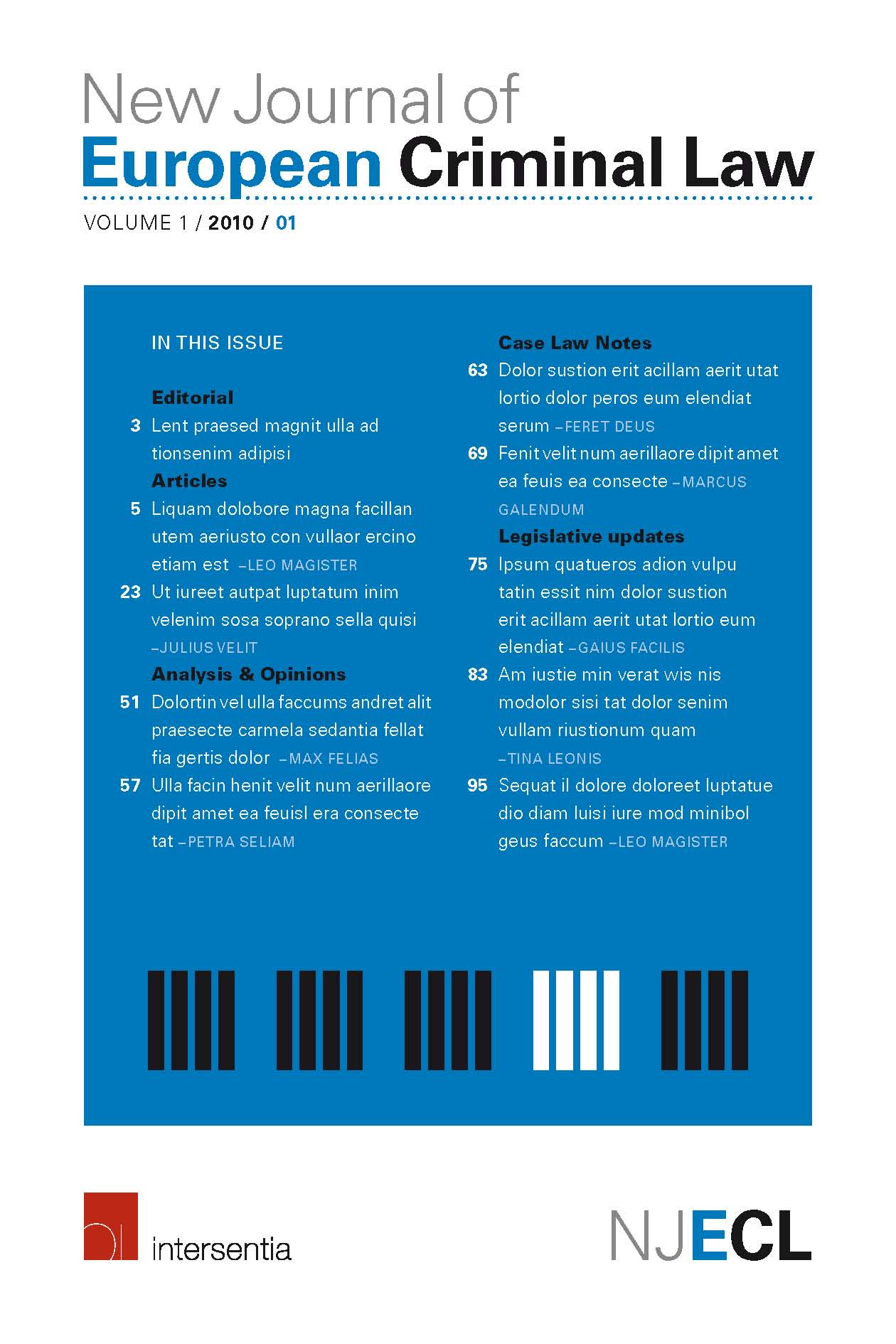 ISSN: 2032-2844PIP
Latest Release: July 03, 2017
Publisher: Sage Publications
Country of Publication: Belgium
Format: Journal + IP authenticated online access
Price: Price on Application

Subscription Type: Annual Subscription
Domestic Renewal Price: £423.69 including VAT of £35.69
The New Journal of European Criminal Law is the leading international journal on European criminal law. It aims at analysing, discussing, defining, developing and improving criminal law in Europe and in particular criminal law as it is drawn up by the European Union and the Council of Europe.
European criminal law is an established and recognised legal discipline. It is not confined to the European Union, but it extends to all forty-seven States of the Council of Europe. Institutionally speaking European criminal law is driven by both the EU and the Council of Europe under the supervision and influence of the Court of Justice of the European Communities so far as the EU is concerned and by the European Court of Human Rights as regards the Council of Europe.
Although European criminal law is a recognised body of law, it constitutes by no means a perfect system and it requires analysis and discussion, so that it may develop and improve. Analysis and discussion cannot be the exclusive preserve of the legislative and judicial bodies; others must contribute to ensure balanced solutions.
Nor is European criminal law confined to what is traditionally considered as criminal law. It extends to and complements environmental law and competition law. As regards competition law the New Journal of European Criminal Law is running a section dedicated to the criminalisation of competition law and of hard-core cartels in particular. It is the first ever legal journal to treat criminal and competition law disciplines related at their interface.
The New Journal of European Criminal Law has two patrons: the European Criminal Bar Association (ECBA) and the European Criminal Law Academic Network (ECLAN). It serves as a forum for both legal practitioners and academics interested in issues related to European Criminal Law. Its editorial board comprises as wide a cross-section of the legal profession as possible. The New Journal of European Criminal Law solicits articles from all those involved in criminal law in its European dimension. It seeks a large variety of articles, ranging fromwith short case notes with little or no comment, to opinionated comments on developments to long in-depth critiques of judgements and legislative measures with proposals for reform or change.
To ensure originality, the New Journal of European Criminal Law has a peer-review system which is applied to long in-depth articles. This is necessary to maintain the position of the New Journal of European Criminal Law as the pre-eminent journal in its field and to guarantee the continued quality of its contents. For the same reason an Advisory Committee, composed of several authorities on the subject of European Criminal Law, supervises the journal and its future development.
Thus, each issue comprises i.a. an Editorial, in-depth Articles submitted to a peer review, cutting-edge and to-the-point Analysis & Opinions, Case Law Notes and Legislative updates.