Transportation Law Passenger Rights and Responsiblities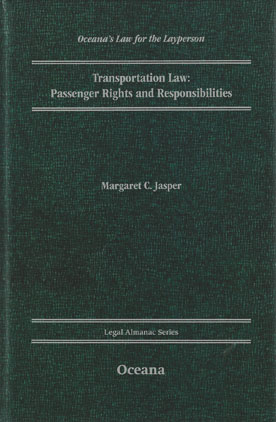 ISBN13: 9780195378092
Published: April 2009
Publisher: Oceana Publications
Country of Publication: USA
Format: Hardback
Price: £25.00

Despatched in 11 to 13 days.
This almanac outlines the obligations and duties owed to passengers by all types of common carriers, including airlines, trains, cruise ships, and buses. The Federal laws that regulate interstate common carriers and the state laws that regulate intrastate common carriers are explored; the statute of limitations associated with each is also provided.
Safety issues, liability for personal injuries due to common carrier accidents, personal property issues, and security concerns are all outlined for the reader's benefit. In addition, common carrier rules and regulations applicable to passengers are examined, including rates and fees, property losses, and banned substance lists. Margaret Jasper also discusses anti-discrimination provisions, including regulations regarding disabled passengers. Carrier directories and forms for issuing complaints are included.
The Legal Almanac Series provides introductory guides for lay readers on a range of topics in US law
Only publication that addresses the legal obligations of both passengers and carriers
Only publication focused on passenger rights with regard to all areas of transportation
Includes the most recent changes in aviation laws which were enacted post-9/11
Includes useful forms designed to enable passengers to submit claims and complaints