Cases and Materials on Constitutional and Administrative Law 9th ed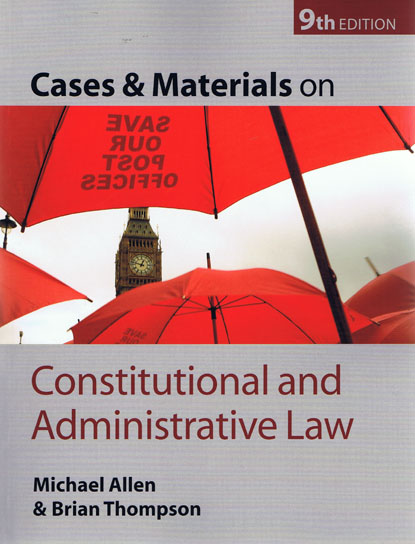 ISBN13: 9780199217779
Published: July 2008
Publisher: Oxford University Press
Country of Publication: UK
Format: Paperback
Price: Out of print

Cases and Materials on Constitutional and Administrative Law provides students with the wide range of legal materials required for success on undergraduate courses. Extracts from leading cases are combined with legal, political and philosophical materials and linked together with explanatory text, alongside notes and questions for discussion.
The authors take a critical look at the main doctrines of constitutional law as well as the principles of administrative law, examining the operation of the constitution in relation to Parliament, the Executive, and the citizen. Expanded commentary throughout the text provides students with a range of views on challenging issues which will stimulate thought and discussion.
The ninth edition has been fully revised and updated to reflect the latest developments in statutory and case law, and politics. A new chapter on judicial independence considers the impact of the Constitutional Reform Act 2005, and the position the judiciary occupies within the reformed Ministry of Justice. Newly subdivided chapters on parliamentary government at work lend a new focus to this vital area.
This essential text continues to provide students with instant access to an unrivalled collection of up-to-date judgments and statutory provisions; ideal for weekly reading, coursework assignments and revision.
Brings together a diverse and engaging range of case law, legislation and political documents, providing students of public law with the key primary materials they require to appreciate the subject in full
Extracts are supplemented by notes and questions to assist and stimulate the reader to think critically about the subject matter
Innovative two colour text design easily distinguishes the extracts from the authors' linking commentary, and enables easy navigation of the text
New to this edition
A new chapter on the judiciary considers the substantial changes instituted by the Constitutional Reform Act 2005, and the creation of the Ministry of Justice
Subdivided chapters on Parliament break this major topic down into a form more accessible for students
Completely updated to cover all relevant cases and developments, such as R (Jackson) v Attorney General , Secretary of State for the Home Department v JJ , SSHD v MB , and SSHD v E.
Concise introductions to each chapter, and to each section within the chapters, help students find their way around the text