The Law of Criminal Cartels: Practice and Procedure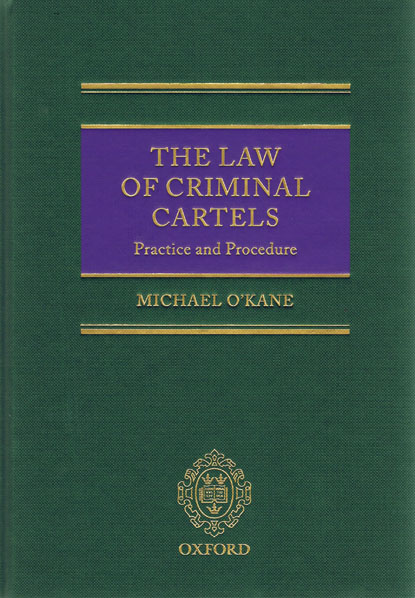 ISBN13: 9780199561209
Published: September 2009
Publisher: Oxford University Press
Country of Publication: UK
Format: Hardback
Price: £195.00

The Law of Criminal Cartels provides comprehensive coverage of the cartel offence introduced into UK law by the Enterprise Act 2002, as well as of the related powers of the main regulators in the UK, EU, and overseas. The appearance of cartel conduct presents new challenges for lawyers straddling the traditionally unrelated areas of criminal and competition law.
The book is a main tool of reference for practitioners uncovering a potentially criminal cartel and considering the position of the company or individual, and for practitioners advising corporate and individual clients who are the subject of UK criminal and cartel investigations with ramifications in other jurisdictions.
This book is the first work to focus exclusively on the UK cartel offence from the practitioner's perspective. The text provides an analysis of the relevant black letter law and procedure - bringing together the criminal, regulatory, and civil law regimes. It provides detailed coverage of the history and development of anti-cartel enforcement, examining in depth the elements of the offence that give rise, for the first time, to personal criminal liability in the UK. This analysis includes identifying issues with the statutory offence where clarification through case law is likely to be required.
It also takes clear account of the international perspective, providing a detailed exposition of the UK, EU and US regimes, as well as the main regimes where such conduct is criminalised. Designed to address the problems that arise in practice, the book focuses on thorny topics such as competing jurisdictions; the interaction between criminal and regulatory investigations (information-sharing and other types of co-operation); and conflicts of interest. It also includes a full guide to the OFT's recently revised leniency regime.
The appendices include relevant OFT guidance and statutory provisions including Part 1 of the Sherman Act 1890, Part 6 of the Enterprise Act 2002, OFT Leniency Guidance and the OFT Investigative Powers Guidance.