Smith and Hogan's Criminal Law 13th ed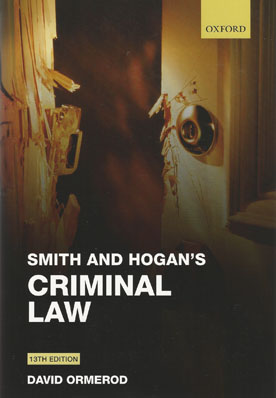 ISBN13: 9780199586493
Published: August 2011
Publisher: Oxford University Press
Country of Publication: UK
Format: Paperback
Price: Out of print

Also Available - Smith & Hogan: Criminal Law Cases & Materials 10th ed
Smith & Hogan: Criminal Law is regarded as the leading doctrinal textbook on criminal law in England and Wales and has been for over 45 years. The book owes its consistent popularity to its accessible style, depth of analysis and breadth of coverage. It is an invaluable text for undergraduates and is an essential reference source for criminal law practitioners.
The thirteenth edition has been completely updated in order to include all legislative and case law developments. Changes brought about through the Coroners and Justice Act 2009 and the Policing and Crime Act 2009 have been fully incorporated.
There is, as ever, detailed analysis of the many recent case developments, in particular, a revision of the chapter dealing with secondary liability and joint enterprise.