Complete EU Law: Text, Cases, and Materials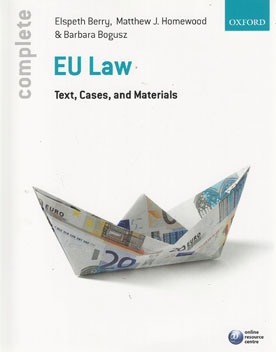 ISBN13: 9780199595310
Published: July 2013
Publisher: Oxford University Press
Country of Publication: UK
Format: Paperback
Price: Out of print

This innovative new text in the Complete series combines extracts from leadings cases and articles with expert author commentary in a concise and student-friendly format.
The ideal resource for students new to the subject, case and legislation extracts are included throughout the text to provide you with a well-rounded, contexualized understanding of EU law. Extracts are clearly introduced and explained with critical questions to guide your reading and help develop your own analytical skills ready for exams and further study.
Each chapter includes further resources such as definitions, diagrams and review questions to help build your understanding of the subject and support you throughout your course. Further reading and assessment questions are also included for each topic, helping you to prepare for exams and providing a useful springboard for further research and essay preparation.
One of the first new textbooks to be written after the Lisbon Treaty, Complete EU Law provides contemporary and dynamic discussion of this expansive subject, considering the development of the EU alongside its practical relevance to current Union citizens.
This text is also supported by an Online Resource Centre which includes:-
An interactive timeline and map illustrating the development of the EU and providing essential background knowledge of the Union and its Member States
Video clips from the European Commission showing key moments in EU legal history
Updates from the authors allowing you to stay on top of key developments in EU law
Self-test questions with instant feedback to help check your understanding and assist with revision
Outline answers to assessment questions to help develop your essay and problem-solving skills ahead of exams