Comparative Contract Law: Cases, Materials and Exercises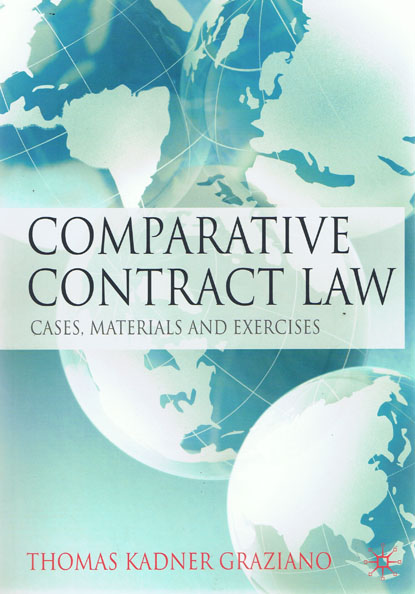 ISBN13: 9780230579798
Published: September 2009
Publisher: Palgrave Macmillan
Country of Publication: UK
Format: Paperback
Price: £43.99

A guide to the principles of European private law enhanced by a practical approach designed to promote learning by doing. Students are introduced to comparative methodology by working through a series of scenarios to be solved, rigorously underpinned with helpful references to relevant cases and materials, in their original language.
If anyone still needs convincing that comparative private law is an exercise worth doing, they need look no further than this excellent and ground-breaking book. It is an admirable addition to any academic or student library, for three reasons. First, it is based on what law does about actual claims. In it you will find carefully-chosen scenarios that worry lawyers and divide different jurisdictions; commentary on those situations; impeccably-chosen literature; and, most importantly, judgments of courts in any number of European jurisdictions (translated where necessary).
Secondly, like all the best books it is written with a purpose: here the purpose of looking at the whole subject of comparative private law against the background of unification of private law in and beyond Europe. Thirdly and most importantly, it skilfully avoids the 'stamp-collecting' approach to comparative law and the increasingly unproductive practice of trying to shoehorn particular jurisdictions into more and more arbitrary legal 'families.' What matters to the first-rate comparatist is not so much taxonomy or the fact that jurisdictions differ, but why they differ, and what considerations should inform any choice between the various solutions on offer.
In short, this is one of the most stimulating introductions to comparative law in recent years. I have no hesitation whatever in commending it warmly to students and teachers alike.
Andrew Tettenborn, Bracton Professor of Law, University of Exeter