Clean Energy Law in Australia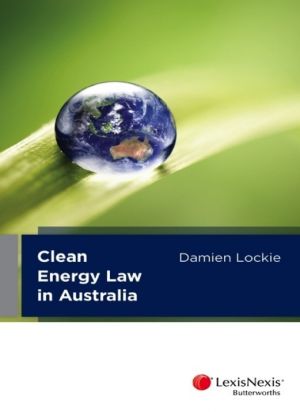 ISBN13: 9780409332230
Published: October 2012
Publisher: LexisNexis Australia
Country of Publication: Australia
Format: Paperback
Price: Price on Application

Clean Energy Law in Australia is a timely, comprehensive and incisive commentary on the full suite of federal laws and regulations for Australia's clean energy future. This title brings together in one source over 20 Acts and regulations covering assessing and meeting liability under Australia's carbon pricing mechanism, registration, measurement and reporting of greenhouse gas emissions, energy efficiency and renewable energy, action on the land, and carbon cost impacts for fuel tax and ozone protection.
The commentary includes an introductory chapter that sets out the legal framework for the multiple dimensions of clean energy, an extensive dictionary and many tables and checklists for simplifying compliance tasks.
Clean Energy Law in Australia is written by an expert in this field to offer guidance for legal, accounting and environmental practitioners, inhouse counsel and environmental superintendents. It will also benefit all persons and students interested in environmental liability, pollution reporting, carbon trading and the low-carbon economy.