Enforcement of Judgements: Awards and Deeds in Commercial Matters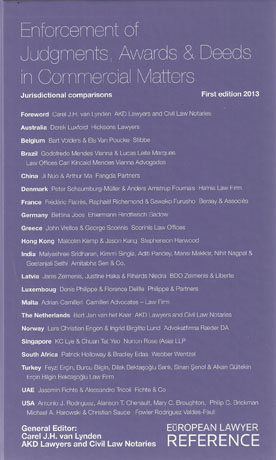 ISBN13: 9780414027053
Published: December 2012
Publisher: European Lawyer
Country of Publication: UK
Format: Hardback
Price: Out of print

International practitioners inevitably are involved in the enforcement of foreign judgments, awards or deeds. Within the EU there is to a large extent uniformity in respect of judgments and deeds on the basis of EU Regulation 44/2001.
In respect of arbitral awards there is of course the 1956 New York Convention. However, other than within the EU there is no "uniformity watchdog". Thus, for arbitration awards and for recognition and enforcement between other countries, bi- or other multilateral conventions or local law must bring help. This requires insight of the various law systems.
In Enforcement of Judgments the systems of countries around the world are being explained along side a questionnaire style covering all relevant aspects across jurisdictions. The book gives easy insight in the (im)possibilities of enforcing judgments, awards and deeds around the world.