Costs & Funding following the Civil Justice Reforms: Questions & Answers 2nd ed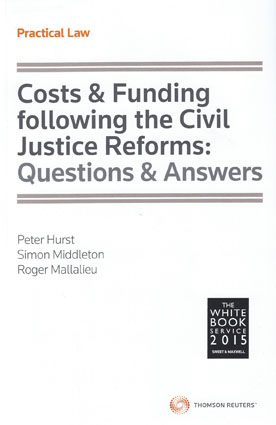 ISBN13: 9780414056527
Published: March 2016
Publisher: Sweet & Maxwell Ltd
Country of Publication: UK
Format: Paperback
Price: Out of print

Costs & Funding following the Civil Justice Reforms: Questions & Answers is a unique book. Produced in conjunction with Practical Law™,this short and practical booktackles common practitioner questions on the effects of the 2013 Jackson reforms on costs and funding. It sets out to answer questions posed on topics ranging from funding of litigation, case and costs management and proportionality to settlement offers, QOCS and summary assessment.The second edition updates the questions, answers and commentary in light of new and ongoing case law and legislation in the fast-evolving costs and funding landscape post-Jackson.
Each chapter starts with introductory commentary covering relevant legislation, case law and Lord Justice Jackson's Review of Civil Litigation Costs: Final Report followed by the questions and answers.
Edited by former Senior Costs Judge Peter Hurst, with contributions from District Judge Simon Middleton and barrister Roger Mallalieu, this is an authoritative and timely book that any practitioner involved with costs cannot afford to be without.