De Smith's Judicial Review 7th ed: 3rd Supplement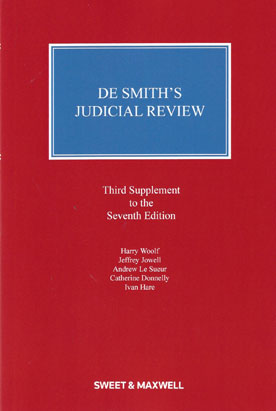 ISBN13: 9780414060104
Published: December 2016
Publisher: Sweet & Maxwell Ltd
Country of Publication: UK
Format: Paperback
Price: Out of print

Regarded as the leading authority on judicial review, and frequently cited in court, De Smith's Judicial Review provides detailed analysis of principles, procedure, remedies and case law. The 7th edition has been brought fully up to date with this third supplement, to reflect the latest developments in practice, procedure and case law.
De Smith deals comprehensively with all grounds of challenge, including illegality, procedural impropriety, substantive review, under the Human Rights Act and European Union grounds. The text examines the different remedies available such as the prerogative orders, declarations, injunctions and pecuniary remedies, and draws in the relevant experience from a broad selection of jurisdictions, especially Australia, Canada, India, Ireland, New Zealand and South Africa.
New to this supplement:-
Analysis of the most recent Supreme Court decisions in Keyu (retrospective effect of the Human Rights Act), Michael (Article 2 claims), SG (international treaties), Pham, Lumsdon and Kennedy (proportionality), Public Law Project (Legal Aid) and Shergill (non-justiciability)
Analysis of recent Strasbourg cases of Jaloud (territorial scope of the ECHR); Gaunt (free speech); Nicklinson (Article 8); and Murray (life sentences and Article 3);
Full coverage of the amendments to the Senior Courts Act 1981 governing judicial review applications found to be "totally without merit" and other procedural changes involving Protective Costs Orders, funding and cases where the outcome would not have been substantially different;
In addition, a general update has been carried out across the text
De Smith is a complete text. It not only looks at the respective roles of courts and other branches of government, it considers the context in which judicial review is one of a number of avenues of redress and discusses government reaction to judicial review.
By covering the history, theoretical foundations and principles of judicial review alongside providing expert guidance on practice and procedure, De Smith's Judicial Review enables you to advise and make decisions with confidence.