Social Security Legislation 2016/17: Supplement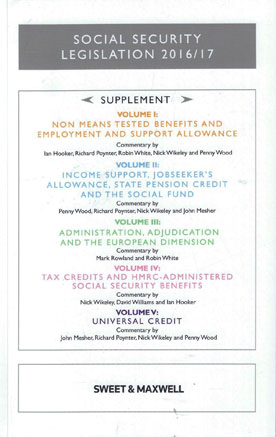 ISBN13: 9780414062900
Published: March 2017
Publisher: Sweet & Maxwell Ltd
Country of Publication: UK
Format: Paperback
Price: Out of print

This Supplement updates to December 5, 2016 the five volume work Social Security Legislation 2016/17.
Part I of this Supplement contains new legislation, presented in the same format as the main volumes. Parts II, Ill, IV, V and VI contain the standard updating material-a separate Part for each volume of the main work-which amends the legislative text and key aspects of the commentary, drawing attention to important recent case law, so as to be up to date as at December 5, 2016.
Among the many changes, particularly noteworthy are those with respect to:-
Developments in Upper Tribunal case law relating to the descriptors for both personal independence payment (PIP) and employment and support allowance (ESA), which together form the bulk of social security appeals heard by the First-tier Tribunal (Social Entitlement Chamber).
Further case law developments both from the Court of Justice of the European Union and domestic courts and tribunals impacting on the right to reside.
The introduction of the Childcare Payments Act 2014 on a trial basis.
A further significant Commencement Order as part of the phased roll-out of universal credit.
Part VII includes the relevant provisions of the Scotland Act 1998 (as amended by the Scotland Act) 2016 which provide the basis for the impending devolution of certain social security functions and benefits. Part VIII, the final section of the Supplement, gives some notice of changes forthcoming between December 5, 2016 and the date to which the main work (2017 /18 edition) will be up to date (mid-April 2017) along with the April 2017 benefit rates.
As always the editorial team has brought its academic and adjudication expertise and its knowledge of tribunal practice to produce a work updating and expanding a guide which will be essential reading for DWP decision makers, First-tier and Upper Tribunal judges, First-tier Tribunal members, barristers and solicitors working in the social security field, welfare rights advisers and students.