Economic Interests in Canadian Tort Law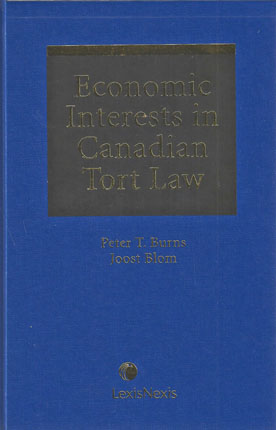 ISBN13: 9780433391876
Published: December 2009
Publisher: LexisNexis Canada
Country of Publication: UK
Format: Hardback
Price: £115.00

Usually despatched in 1 to 3 weeks.
This eagerly-anticipated publication was created to fill the need for a thorough, one-stop reference source on a complex, multi-faceted subject. Economic loss is often inadequately dealt with in the larger context of the law of torts. This book offers, for the first time, an in-depth look at how the law protects economic interests from being injured through the acts of others, primarily focusing on intentionally-caused economic loss.
The book first provides an overview of the concepts and theories of economic torts and the parameters of the current law. It then goes on to look at economic loss from all possible causes of action, such as: negligent misstatement, breach of fiduciary duty, breach of confidence, inducing breach of contract, causing economic loss by unlawful means, conspiracy, deliberate misrepresentation (injurious falsehood and deceit), passing-off, negligence and other forms of civil liability.