Drafting Trusts and Will Trusts in Canada 2nd ed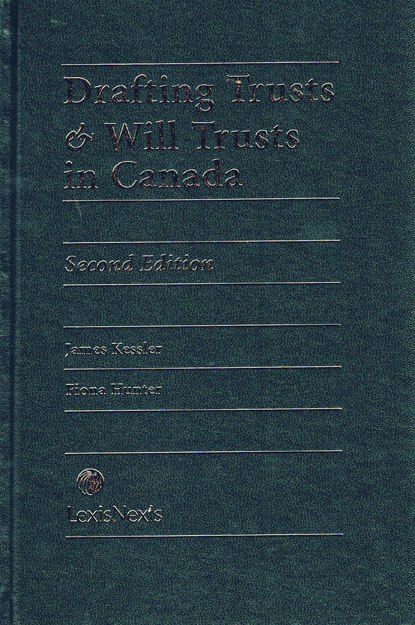 ISBN13: 9780433452102
Published: September 2007
Publisher: LexisNexis Canada
Country of Publication: Canada
Format: Hardback & CD-ROM
Price: Out of print

A new edition of the very successful book on Drafting Trusts and Will Trusts in Canada, fully revised and updated to take into accounts new developments in Canadian trusts law and practice since the first edition was published in November 2003.
Trust drafting is a professional skill, requiring extensive knowledge of trust law, succession law, a fair amount of tax law, some property law and even some insolvency and family law. Until the first edition of this text there was no general text on the practical aspects of trust drafting – the publication changed that, fulfilling to aid general practitioners by discussing general and technical issues which arise in the drafting of trusts and will trusts, and to provide expertly-crafted precedents (which are also available in a CD which accompanies the book.
The precedents adopt a drafting style which reads simply & naturally, but most importantly, are accompanied with an explanation of why the text is there and the choices that have to be made. The commentary (which takes up over 300 pages in comparison to about 50 pages of precedents) is crucial as the adoption of a precedent without understanding it fully is a recipe for trouble.
The commentary discusses not only all the different types of trusts used in Canada and the different rules (in all Canadian jurisdictions) which pertain to them, but also focuses on such topics as first drafting principles, drafting style, beneficiaries, trustees and also includes a glossary of trust terms.
The new edition will contain the following key changes:-
new discussions on discharging trustees and on incentive trusts (the latter as part of an expanded discretionary trust chapter),
an update on money laundering discussion,
an update on the definition of spouses,
expanded discussions on Statements of Wishes, the alter ego trusts chapter (to discuss practice issues, tax and drafting concerns), and the bare trusts chapter (to discuss their usage in estate planning and tax consequences).
Two new chapters – one on the Appointment & Retirement of Trustees, one on Indemnities for Executors and Trustees
Fully revised & updated