Drafting Trusts and Will Trusts in Canada 3rd ed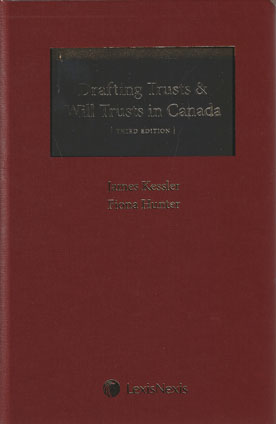 ISBN13: 9780433463016
Published: August 2011
Publisher: LexisNexis Canada
Country of Publication: Canada
Format: Hardback & CD-ROM
Price: Out of print

Adopting a precedent without understanding it fully is a recipe for trouble. Trust drafting is a professional skill requiring knowledge of the types of trusts used in Canada, the rules pertaining to them — and how these rules differ across all common law jurisdictions.
You must also have extensive knowledge of trust law, succession law, plus a fair amount of tax law, some property law, and even some insolvency and family law.
Drafting Trusts and Will Trusts in Canada, 3rd ed continues to combine commentary on different types of trusts with expertly crafted precedents. The precedents follow a simple, natural drafting style to help you avoid difficulties. Commentary covers a full range of practical issues that underpin trust drafting, including:=
Common drafting mistakes and how to avoid them
How to draft a trust to suit clients' needs
How to avoid breaching the rules against perpetuities and accumulations (where still in force)
When and how to use life insurance trusts
How to draft and use powers of appointment and powers of resettlement
Drafting spendthrift trusts and trustees' powers
How to protect retiring trustees
How to settle trust property
What's New in this Edition?
Brand new chapter on tax rules to help less experienced trust drafters understand how trusts are taxed, and when to use — and not use — different types of trusts
Information on using charitable foundations and charitable trusts
Specific terminology for drafting insurance trusts to ensure creditor protection
Latest law and tax treatment of alter ego trusts and joint partner trusts
Using principal residence trusts for settlers or dependent adult disabled beneficiaries
Updates throughout on the impact of the new Saskatchewan Trustee Act Includes 10+ expertly drafted precedents on CD-ROM