Matthew Hale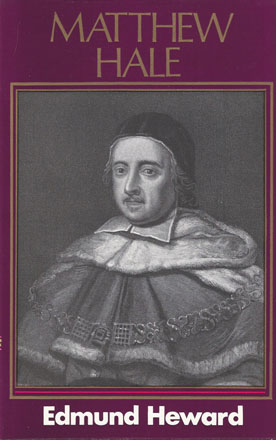 ISBN13: 9780709135524
ISBN: 0709135521
Published: June 1972
Publisher: Robert Hale Ltd
Country of Publication: UK
Format: Hardback
Price: Out of print

Out of Print
Matthew Hale was an outstanding Chief Justice of the Court of King's Bench in the seventeenth century, and in addition was writer, historian, law reformer and educationalist.
A fearless judge of great learning and patience he treated the accused, witnesses and the bar alike with consideration and courtesy. He took seriously a judge's function as a teacher, explaining his judgements to the students in court and writing on the common law for their benefit.
A man of the highest integrity he could not be solicited by bribes or any other inducements. He believed that the guilty should be convicted and should not be allowed to go free by reason of technicalities. Nevertheless he observed and had great respect for the law which he would never presume to override.
The clarity of his thinking and writing commands respect. He was interested in politics, economic affairs, the condition of the poor and church unity, and wrote on all these subjects. He was infected by the intellectual excitement of his time, being on friendly terms with the founders of the Royal Society and dabbling in scientific experiments himself.
Hale was one of our foremost law reformers sitting on a committee for law reform set up by Oliver Cromwell and advising Charles II on reforms of procedureand substantive law. He suggested the formation of the Law Commission three hundred years before it was established in 1965.