Injustice: State Trials from Socrates to Nuremberg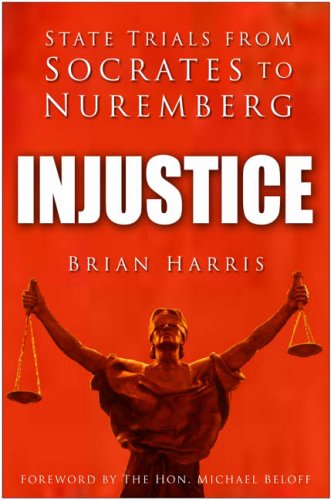 ISBN13: 9780750940214
ISBN: 0750940212
Published: March 2006
Publisher: Sutton Publishing Ltd
Country of Publication: UK
Format: Hardback
Price: £20.00 - Unavailable at Publisher

To a lawyer, injustice is the unfair conduct of a trial. Consequently, a trial can be considered 'fair' even though an innocent man has been convicted, and vice versa. To the person on the street a fair trial is one which results in the guilty being convicted and the innocent acquitted.
In this fascinating book, Brian Harris QC looks into several notorious cases of supposed injustice - Socrates, Joan of Arc, Charles I, the Tolpuddle Martyrs, Admiral Byng, Lord Haw-Haw, and the Nuremberg Trials. Was Byng condemned because of a misunderstanding of the Articles of War? Should the Tolpuddle Martyrs have been convicted under an Act of Parliament passed for an entirely different purpose? Should Nazi leaders have been convicted of crimes which did not exist at the time they were committed?
Brian Harris asks both the legal question 'was the trial fair?' and the humane question 'was the accused guilty or innocent?'. The results are surprising, raising issues which still resonate today. How far should society tolerate dissent? Can a belief in social justice justify a campaign of terrorism? Are we in the free world justified in attacking a tyrant who is not directly threatening us?