Constitutional Law of Canada: 2015 Student Edition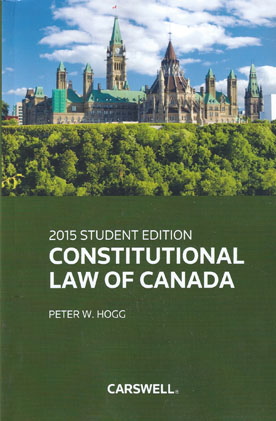 ISBN13: 9780779866885
Published: June 2015
Publisher: The Carswell Company Ltd.
Country of Publication: Canada
Format: Paperback
Price: Out of print

Peter W. Hogg's Constitutional Law of Canada remains the classic text in its field, and the one to which practitioners turn for authoritative guidance on the complex issues and concepts which comprise Canadian constitutional law.
The 2015 Student Edition is an abridged version of the new looseleaf two-volume, 5th Edition Supplemented, which was extensively revised in 2007, along with chapter reorganizations, to better reflect the doctrine recently developed by the Supreme Court.
The Student Edition contains 35 of the 60 chapters in the looseleaf that the author judged most likely to be useful to students. For ease of reference, the contents of the omitted 25 chapters that appear in the looseleaf are listed in their appropriate place in this edition. The Student Edition includes the full Table of Cases and Index found in the Looseleaf edition.
Its softcover, smaller size and lower price make the Student Edition 2015 the ideal starting point for the study of constitutional law by students across Canada, and a valuable addition to any course about constitutional law.
The 2015 Student Edition of Constitutional Law of Canada incorporates up-to-date case law from the Supreme Court of Canada up to October 2014.