Constitutional Law of Canada: 2018 Student Edition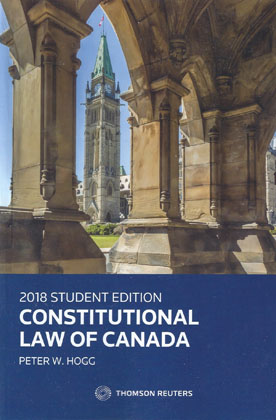 ISBN13: 9780779886197
Published: July 2018
Publisher: The Carswell Company Ltd.
Country of Publication: Canada
Format: Paperback
Price: £155.00

Peter W. Hogg's Constitutional Law of Canada remains the classic text in its field, and the one to which practitioners turn for authoritative guidance on the complex issues and concepts which comprise Canadian constitutional law.
The 2018 Student Edition is an abridged version of the new looseleaf two-volume, 5th Edition Supplemented, which is revised annually by the author. The Student Edition contains 35 of the 60 chapters found in the Looseleaf that the author has deemed most likely to be useful to students.
For ease of reference, the title of each of the Omitted chapters is listed in its appropriate place in the Table of Contents of this edition. The Student Edition includes the full Table of Cases and Index found in the Looseleaf edition.
Its softcover, smaller size, portability and lower price makes the 2018 Student edition the ideal starting point for the study of constitutional law by students accross Canada and beyond. It is a valuable addition to any course about constitutional law.
The 2018 Student Edition of the Constitutional Law of Canada incorporates up-to-date case law from the Supreme Court of Canada up to October 2017.
Organized into four parts, Constitutional Law of Canada, 2018 Student Edition gives you:-
Easy-to-understand commentary that sheds light on the meaning of constitutional provisions as interpreted and applied by the courts
A broad perspective that includes references to the constitutional law of the United States and other Commonwealth countries
Seven updated appendices with the full text of crucial, and often difficult to find, Canadian and international constitutional documents, including all relevant Canadian constitutional legislation, the American Bill of Rights, and the International Covenant on Civil and Political Rights
A complete and up-to-date bibliography and an index that is accurate for the whole of this new edition