A Practical Guide to Permitted Changes of Use under the General Permitted Development Order 2nd ed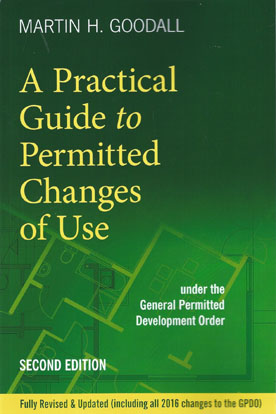 ISBN13: 9780993583629
Published: November 2016
Publisher: Bath Publishing
Country of Publication: UK
Format: Paperback
Price: £50.00

A Practical Guide to Permitted Changes of Use is the only up to date, comprehensive practical guide to permitted changes of use under the much changed General Permitted Development Order ('GPDO').
Extensive changes were made to the GPDO between 2013 and 2015 to permit new changes of use, including the residential conversion of shops, offices and agricultural buildings (among others).
The GPDO was completely revised in 2015 to consolidate these changes, and further important changes to the Order were made in April 2016.
This completely revised and updated Second Edition covers all these further changes, as well as discussing recent judicial decisions and appeal decisions on these permitted development rights.
Although planning permission for these developments is no longer required, many of them require prior approval by the local planning authority, and this has proved to be a major headache for both property owners and planning officers.
This book gives clear advice on the operation of the prior approval procedure, including the detailed requirements for prior approval applications, their processing and determination, and the way the 56-day time limit for the determination of these applications works in practice.
The book also covers other changes of use permitted by the GPDO, including flexible and temporary uses.
Who should buy the book?
A Practical Guide to Permitted Changes of Use will be a valuable resource for all property and planning professionals including:
Architects
Town Planners in both the private and public sectors
Surveyors and Valuers
Barristers, solicitors, Licensed Conveyancers and other legal advisers
Builders, developers and property owners wishing to carry out residential conversions or to make other changes of use as Permitted Development
​​