Making We the People: Democratic Constitutional Founding in Postwar Japan and South Korea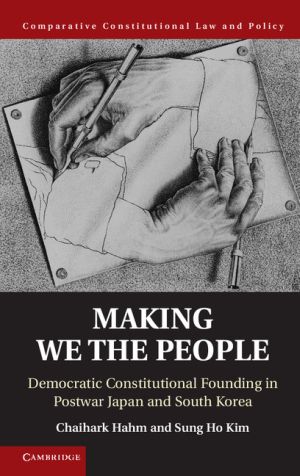 ISBN13: 9781107018822
Published: December 2015
Publisher: Cambridge University Press
Country of Publication: UK
Format: Hardback
Price: £69.99

Despatched in 6 to 8 days.
What does it mean to say that it is 'we the people' who 'ordain and establish' a constitution? Who are those sovereign people, and how can they do so? Interweaving history and theory, constitutional scholar Chaihark Hahm and political theorist Sung Ho Kim attempt to answer these perennial questions by revisiting the constitutional politics of postwar Japan and Korea.
Together, these experiences demonstrate the infeasibility of the conventional assumption that there is a clearly bounded sovereign 'people' prior to constitution-making which may stand apart from both outside influence and troubled historical legacies.
The authors argue that 'we the people' only emerges through a deeply transformative politics of constitutional founding and, as such, a democratic constitution and its putative author are mutually constitutive. Highly original and genuinely multidisciplinary, this book will be of interest to scholars of comparative constitutionalism as well as observers of ongoing constitutional debates in Japan and Korea.