Sustainable Development Principles in the Decisions of International Courts and Tribunals: 1992-2012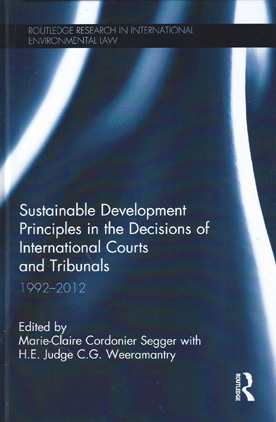 ISBN13: 9781138780057
Published: May 2017
Publisher: Routledge
Country of Publication: UK
Format: Hardback
Price: £150.00

The 2002 New Delhi Declaration of Principles of International Law relating to Sustainable Development marked a significant milestone setting out seven principles of sustainable development that have been agreed in treaties and soft-law instruments such as the outcomes of the 1992 UN 'Earth Summit' Conference on Environment and Development.
Since then, the recognition of the New Delhi principles has been increasingly widespread, occurring across several fields of law by dispute settlement bodies with diverse jurisdictions over human rights, international trade, investment, and international crimes, amongst others.
This book provides an overview of the expanding body of jurisprudence incorporating the New Delhi principles of sustainable development. Consisting of chapters written by respected commentators it documents the application and interpretation of these principles by international and regional courts, tribunals and dispute settlement bodies.
The book examines the differences and commonalities in application amongst courts with jurisdiction over the environment, human rights, trade, investment and international crime. It charts the evolution of principles on sustainable development in international law from soft law standards towards recognition as customary law in certain instances. Before going on to assess the remaining practical, legal, political and economic challenges to further judicial consideration and acceptance of the principles.
It provides a unique contribution of great interest to policy-makers, civil-society organizations, academics and students, and practising lawyers concerned with sustainable development around the world.