Art Law: The Guide for Collectors, Investors, Dealers & Artists 3rd ed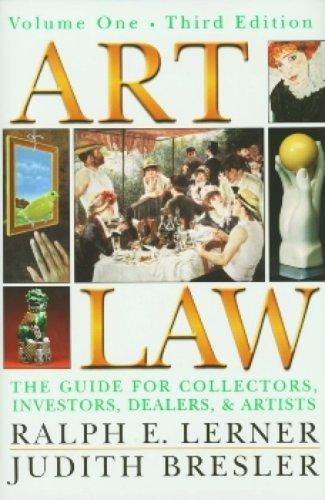 ISBN13: 9781402406508
ISBN: 1402406509
Published: October 2005
Publisher: Practising Law Institute (PLI USA))
Country of Publication: USA
Format: Hardback, 3 Volumes
Price: Out of print

Import only: Allow 1 - 2 weeks for delivery
Long considered the gold standard in legal and tax guidance for visual art professionals and their attorneys, Art Law is now even more valuable to anyone involved in this complex, interconnected industry. Teeming with new information and analysis and many new sample documents, the three-volume Third Edition of Art Law is the one resource you must consult to help ensure you formalize rock-solid agreements, maximize tax savings, and minimize legal liabilities.
Stocked with more timesaving forms, checklists, charts, and procedural guides than ever before, ART LAW enables you to help art professionals:-
Draft effective agreements - which clearly define the rights and obligations of the parties involved, whether they're artists, dealers, collectors, investors, appraisers, museums, or auction houses.
Avoid legal pitfalls - including breaches of duty, conflicts of interest, estate and tax planning errors, and missteps in international transactions.
Exploit tax-saving opportunities - such as deducting losses on the sale of a collection, creating annuity trusts, and maximizing deductions for charitable contributions or transfers.
One-of-a-kind coverage
Art Law
is now the first and only book in the field to analyze the implications of revised UCC Article 9 for art transactions -- address in detail tax-free exchanges of artworks under IRC Section 1031 --cover trademark issues relating to artworks -- and offer a chapter-length examination of the complicated legal issues involved in online art.
New and expanded information
Art Law now more fully examines the concept of entrustment in art deals -- auctioneer's responsibility to buyers -- antitrust and other forbidden auction practices -- online appraisals -- tort claims arising from art appraisals and art authentications -- fraud in online art transactions -- art as visual speech -- fine art licensing -- and art-related insight into the UNESCO Convention, Digital Millennium Copyright Act, National Stolen Property Act, Communications Decency Act, and EU Directives.
New and revised sample documents
Art Law now includes new forms covering consignments, dealer-to-dealer sales, and dealer-to collector sales -- updated forms from Sotheby's and Christie's -- new forms for tax-free exchanges -- and new forms for loans and promised gifts from artists' estates.
New case law commentary
Art Law now analyzes such key recent court decisions as Tiger Woods -- Ets-Hokin v. Skyy Spirits -- case law interpreting VARA, including what constitutes "recognized stature" -- court rulings affecting insurance coverage for artists by dealers -- and case law that centers on a museum's conflict between Holocaust-claimed art and its duty to maintain a collection acquired in good faith.
Distilling an immense body of law into three practical, transaction-enabling volumes, the new Third Edition of Art Law is required reading for anyone who buys, sells, collects, appraises, authenticates, exhibits, restores, invests, or advises in the visual art world.