Bennion on Statutory Interpretation 5th ed: 1st Supplement including Replacement Index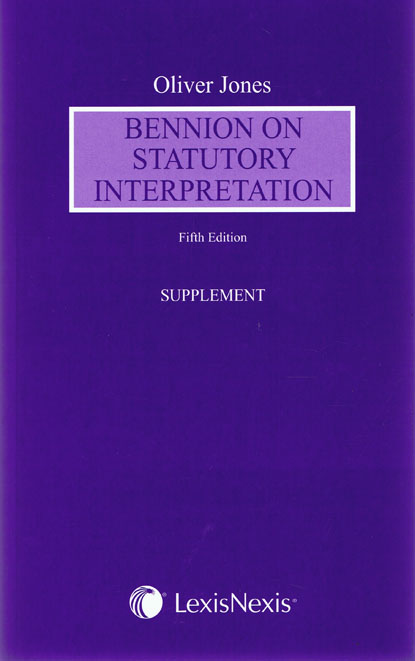 ISBN13: 9781405750035
Published: December 2010
Publisher: LexisNexis Butterworths
Country of Publication: UK
Format: Paperback
Price: Out of print

For all practitioners of law, a keen and informed understanding of the meaning and interpretation of legislation is the key to professional success.
This supplement is essential reading for everyone who has to administer or advise, argue or adjudicate on Acts of Parliament and Statutory Instruments.
Bennion on Statutory Interpretation ("Bennion") was recently described by the Chief Justice of Australia as the "standard English work on the subject". It is undoubtedly widely used by practitioners and academics throughout the common law world. A significant factor in the success of Bennion has not only been its depth and breadth. It has also been the currency of the work.
A key plank in ensuring that currency is the production of Supplements. Since the Second Edition of Bennion, a First Supplement has been produced, on average, every two years from the publication of the relevant edition. It is necessary to maintain this average by publishing the First Supplement to the Fifth Edition of Bennion in 2010. This will ground the ongoing appeal of Bennion, especially for the busy practitioner.
The content of the First Supplement will resemble that of its counterparts for earlier editions. It will, therefore, contain modifications of the text of the Fifth Edition to reflect:-
English cases since the publication of the Fifth Edition considering particular passages in Bennion;
Other such cases performing statutory interpretation, at the point in the Code of Bennion to which they relate;
Subsequent modifications to legislative instruments referred to in the Fifth Edition.
Newly released or updated academic commentary referred to in the Fifth Edition.
The First Supplement will also contain a Replacement Index covering the Fifth Edition and the First Supplement.
It is anticipated that the ground so covered by the First Supplement will be substantial. English courts are performing statutory interpretation, including by reference to Bennion, on a daily basis. It is inevitable that there will be a large body of case law to consider since the publication of the Fifth Edition, which stated the law as at 31 March 2007. Parliament and its delegates have been at least equally prolific in making and amending legislative instruments and this will also need to be scrutinised.
There are some readily apparent examples of judicial and legislative developments since the Fifth Edition. The House of Lords discussed the use of legislative history, particularly debates in Parliament, under its decision in Pepper v Hart [1993] AC 593, in R v JTB [2009] 2 WLR 1088. In line with the attitude of Bennion to Pepper, Lord Hoffman criticised the consequences of the decision in Chartbrook Ltd v Persimmon Homes Ltd [2009] UKHL 38.
On the legislative front, the Companies Act 2006 (UK) has progressively come into force since 2007 and cases concerning its meaning are arising. There may need to be cross-referencing for any provisions of company law referred to in the Fifth Edition and now superseded, as well as discussion of the resulting cases.