The Worried Student's Guide to Medical Ethics and Law: Thriving not just Surviving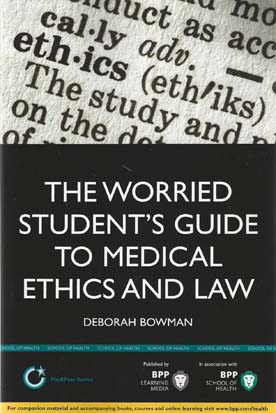 ISBN13: 9781445379494
Published: October 2011
Publisher: BPP Learning Media
Country of Publication: UK
Format: Paperback
Price: £19.99

Are you confused about medical ethics and law? Are you looking for a definitive book that will clearly explain medical ethics and law?
This book offers a unique guide to medical ethics and law for applicants to medical school, current medical students at all stages of their training, those attending postgraduate ethics courses and clinicians involved in teaching. It will also prove a useful guide for any healthcare professional with an interest in medical ethics and law.
This book provides comprehensive coverage of the core curriculum (as recently revised) and .clear demonstration of how to pass examinations, both written and practical. The title also considers the ethical dilemmas that students can encounter during their training.
This easy-to-use guide sets out to provide:-
Comprehensive coverage of the recently revised core curriculum
Consideration of the realities of medical student experiences and dilemmas with reference to recently published and new General Medical Council (GMC) guidance for medical students
Practical guidance on applying ethics in the clinical years, how to approach all types of examinations and improve confidence regarding the moral aspects of medicine
A single, accessible volume that covers all stages of the medical student experience
In addition to the core curriculum, this book uniquely explains the special privileges and responsibilities of being a healthcare professional and explores how professional behaviour guidance from the GMC applies to students and medical professionals.