Antitrust Stories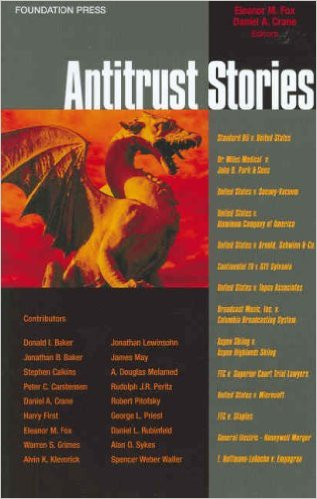 ISBN13: 9781599410920
Published: January 2007
Publisher: Foundation Press
Country of Publication: USA
Format: Paperback
Price: Out of print

In Antitrust Stories a group of prominent antitrust scholars and practitioners brings to life thirteen of the greatest antitrust cases ever litigated.
The volume is edited by Eleanor Fox and Dan Crane and chapter authors include Bob Pitofsky, Dan Rubinfeld, George Priest, Al Klevorick, and Alan Sykes, and many other leaders in the field. Cases have been selected to provide a historical sampling of different eras of antitrust enforcement and range from Standard Oil at the founding of U.S. antitrust to Microsoft in the new economy.
Drawing on history, economics, politics, and law, Antitrust Stories provides a glimpse behind the texts of well-known legal opinions into the larger-than-life personalities and struggles of their antagonists and protagonists.
Find out why Interior Secretary Harold Ickes was furious with the Antitrust Division over the Socony indictment and why the Superior Court Trial Lawyer's Association's litigation strategy backfired on them.