On The Freedom of the Sea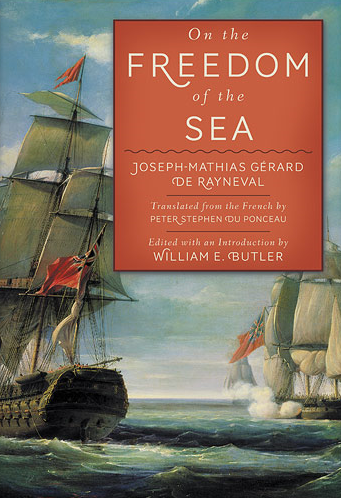 ISBN13: 9781616194048
Published: January 2014
Publisher: Talbot Publishing
Country of Publication: USA
Format: Hardback
Price: £55.00

Available for the first time in English and edited with an extensive introduction by William E. Butler. A previously overlooked and unpublished contemporary translation by Peter S. Du Ponceau of the classic treatise by Joseph-Mathias Gerard de Rayneval, De la Liberte des Mers (Paris, 1811).
Successor two centuries later to Grotius' classic writings on the freedom of the seas, Gerard de Rayneval's work affirmed the principles of natural and positive law applicable to naval warfare, privateers, the law of prize, the deep seabed and high seas, neutrality, and international straits from a French perspective deeply sympathetic to American views of the time.
Gerard de Rayneval cherished the hope that Napoleon might be inspired by the work to draft a code of maritime law. This treatise informed negotiations that led to the 1856 Declaration of Paris and was widely cited by continental jurists during the 19th century.
"Professor William Butler's careful scholarship and clear presentation bring to life an important translation of Gerard de Rayneval's work on the law of the sea, a topic of continuing interest to scholars and mariners alike in the 21st century. Professor Butler's detailed introduction and editing of Du Ponceau's translation offer essential background for familiar maritime concepts and adds richness to the body of work explaining the legal regimes surrounding the use of the world's seas." James W. Houck Vice Admiral, Judge Advocate General's Corps, U.S. Navy (Ret.)