Manual of Accounting: Interim and Preliminary Reporting for the UK 2012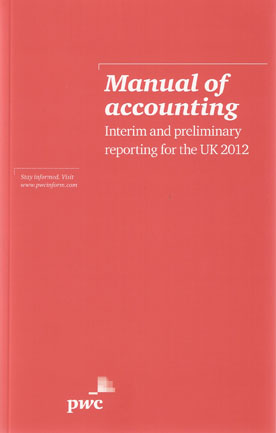 ISBN13: 9781780431222
Published: May 2012
Publisher: Bloomsbury Professional
Country of Publication: UK
Format: Paperback
Price: Out of print

Manual of Accounting: Interim and Preliminary Reporting for the UK 2012 is an illustrative set of condensed interim financial information which has been prepared in accordance with IAS 34, Interim financial reporting, for a fictional existing IFRS preparer in the UK.
It reflects IFRS standards and interpretations that are required to be applied by an entity with an annual period beginning on or after 1 January 2012.
Manual of Accounting - Interim Financial Information for the UK 2012 includes an overview of IAS 34, a disclosure checklist and appendices for first-time adopters of IFRS and early adopters of IFRS 9, 'Financial instruments'.
Accountants in business and practice dealing with IFRS, legal practitioners, company administrators, financial advisers, auditors and academics will find this guide a valuable tool.