Tax Planning for Family and Owner-Managed Companies 2016/17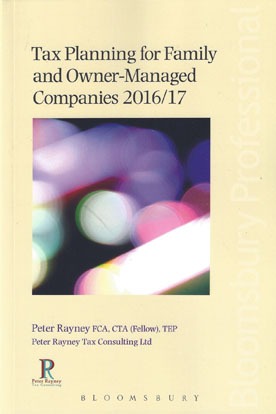 ISBN13: 9781784513696
Published: December 2016
Publisher: Bloomsbury Professional
Country of Publication: UK
Format: Paperback
Price: Out of print

This guide is designed to provide an invaluable source of money-saving advice for anyone who advises or runs a family or owner-managed company. It examines a wide variety of tax planning matters from the viewpoint of the company, its working and non-working shareholders and its employees.
This fully updated new edition contains effective strategies for dealing with particular problems and opportunities for family and owner-managed companies, including:-
The various methods of extracting funds from the company and the effect of the post-5 April 2016 dividend tax changes;
Remuneration strategies and the impact of the 'disguised remuneration' legislation;
The treatment of benefits and expenses, including the company car regime;
Treatment of personal service companies under the IR35 regime; and
Full consideration of the recent radical changes to the pension regime as it affects owner-managers and helpful planning strategies.
In addition to this the main employee share schemes and arrangements are discussed, with full coverage of Enterprise Management Incentive (EMI) share option schemes. It also considers the ways in which shares can be passed to employees who are not members of the family. Detailed practical consideration is given to the potential impact of the 'restricted securities' regime in the context of relatively straightforward unapproved share awards and options.
The 2016/17 edition of this essential book contains the very latest tax planning strategies and demonstrates how to keep tax liabilities to a minimum. It is fully updated to the latest Finance Acts, with worked examples to illustrate complex points throughout. Each chapter concludes with useful checklists of planning points referring to the tax position of different parties.