Irish Family Law Handbook 5th ed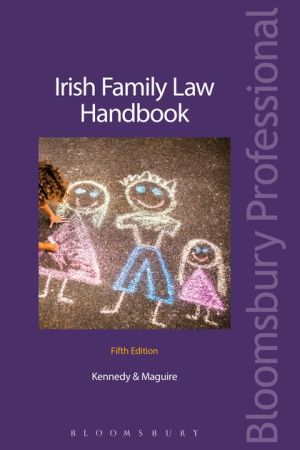 ISBN13: 9781784515874
Published: May 2016
Publisher: Bloomsbury Professional (Ireland)
Country of Publication: Ireland
Format: Paperback
Price: £135.00

Despatched in 10 to 12 days.
Irish Family Law Handbook, Fifth Edition comprises consolidated and annotated legislation including coverage of the Children and Family Law Relationships Act 2015.
Each section is annotated to indicate amendments or repeals - key legal information which is quickly accessible and clearly outlined. Whatever aspect of family law you practice, this essential guide will ensure you've the latest legal guidance and reference information to hand at all times. The authors have expertly selected the family law statutes that busy practitioners need to refer to on a regular basis, as well as EU regulations and the Rules of Court.
The Children and Family Law Relationships Act 2015 passed on the 6th April 2015 and fundamentally amends the following statutes:
The Guardianship of Infants Act 1964,
The Succession Act 1965,
The Family Law (Maintenance of Spouses and Children) Act 1976,
The Status of Children Act 1987,
The Family Law Act 1995,
The Civil Registration Act 2004,
The Civil Partnership and Certain Rights and Obligations of Cohabitants Act 2010,
The Adoption Act 2010,
The Child Care Acts 1991 to 2013.
The new Act has implications for many other statutes, including the Protection of Children (Hague Convention) Act 2000, the Student Support Act 2011, the Parental Leave Act 1998 and the Parental Leave (Amendment) Act 2006, the Adoptive Leave Act 1995, the Maternity Protection Act 1994, the Unfair Dismissals Act 1977, and the Redundancy Payments Act 1967.
Accessible and detailed, Irish Family Law Handbook is a truly essential book for all solicitors and barristers practising any aspect of family law.