Deloitte iGAAP 2015 Pack (Volumes A 1&2, B & C)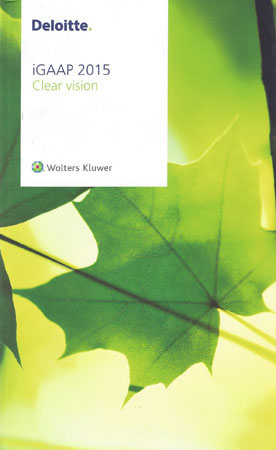 ISBN13: 9781785400827
Published: March 2015
Publisher: CCH Editions
Country of Publication: UK
Format: Paperback, 4 Volumes
Price: Out of print

Deloitte's iGAAP 2015 manuals, published by Wolters Kluwer UK, are the authoritative guides for preparers and auditors of financial statements.
The volumes set out comprehensive guidance for entities reporting under International Financial Reporting Standards. They provide the most detailed and up-to-date guidance. The manuals are available as print books, as eBooks on the cloud-based Smarteca platform, or as cost effective print and eBook bundles. UK GAAP versions are also available in our UK range, and all titles are available on CCH Online (contact us for details).
The iGAAP 2015 volumes cover IFRS requirements extant at 31 July 2014, with discussion and analysis of significant recent changes. These include:
the new 'complete' IFRS 9 Financial Instruments, with its revised requirements for hedging, classification and measurement, and impairment;
IFRS 15 Revenue from Contracts with Customers, which will affect almost all entities reporting under IFRSs; and
significant developments in the area of Integrated Reporting.
This pack provides those dealing with IFRSs with everything they need.
Volumes included:


iGAAP 2015 Volume A: A guide to IFRS reporting Parts 1 & 2
iGAAP 2015 Volume B: Financial Instruments - IFRS 9 and related Standards
iGAAP 2015 Volume C: Financial Instruments - IAS 39 and related Standards