Deloitte GAAP 2016 (Volume B): UK Reporting - FRS 102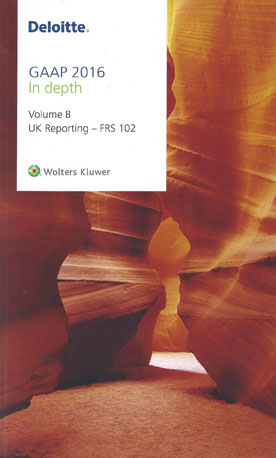 ISBN13: 9781785402258
Published: December 2015
Publisher: CCH Editions
Country of Publication: UK
Format: Paperback
Price: Out of print

GAAP 2016 is the authoritative guide for all UK companies required to prepare financial statements. This manual combines guidance on IFRSs and UK GAAP in a single unified publication.
This volume sets out the requirements of FRS 102 The Financial Reporting Standard applicable in the UK and Republic of Ireland, the main standard which replaces 'old' UK GAAP, as at 1 September 2015. The standard is based on the IFRS for SMEs, a simplified version of full IFRSs, but adapted to ensure compliance with company law requirements in the UK and to accommodate some existing UK GAAP practices by introducing a number of options also available under IFRSs.
The 2016 edition includes a new chapter on FRS 104 Interim Financial Reporting, which is intended for use in the preparation of interim reports by companies that apply FRS 102 for their annual financial statements. The volume also covers the new section added to FRS 102 for small companies (replacing the FRSSE).
Our publication follows the popular approach of previous Deloitte manuals by providing worked examples and extensive interpretation and guidance - clearly marked - where the Companies Act or accounting standards are silent, ambiguous or unclear.
The author team are financial reporting experts at Deloitte. This volume is part of a series of GAAP 2016 publications. The companion volumes are:-
Volume A: UK Reporting - Legal and Regulatory Framework
Volume C: UK Reporting - IFRSs;
Volume D: UK Reporting - IFRS 9 and related Standards; and
Volume E: UK Reporting- /AS 39 and related Standards.