Comparative Company Law: A Case-Based Approach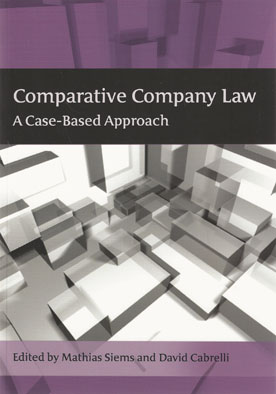 ISBN13: 9781841138916
Published: February 2013
Publisher: Hart Publishing
Country of Publication: UK
Format: Paperback
Price: £40.99

As attention moves rapidly towards comparative approaches, the research and teaching of company law has somehow lagged behind. Existing books on comparative company law focus on the institutional structure of the corporation but this approach risks overlooking specific cases and how different jurisdictions might treat each of these cases.
For example, directors' liability and shareholder duties can best be understood by analysing how selected hypothetical cases would be solved in different countries. The overall purpose of this book is therefore to fill a gap in the academic literature by identifying whether conceptual differences between countries exist. The book also has a public policy dimension, because the existence or absence of differences may lead to the question of whether formal harmonisation of company law is necessary.
The book covers ten legal systems. With respect to countries of the European Union, it focuses on the most populous countries (Germany, France, UK, Spain, Italy and Poland) as well as two smaller Member States (Finland and Latvia).
In addition, the laws of the world's largest economies (the US and Japan) are included for the purposes of wider comparison. From a comparative perspective the US is the most important 'exporter' of corporate governance theories and ideas and Japan's company law is considered a good modern example of a mixed jurisdiction.