Deloitte iGAAP 2015 (Volume A Parts 1 & 2): A Guide to IFRS Reporting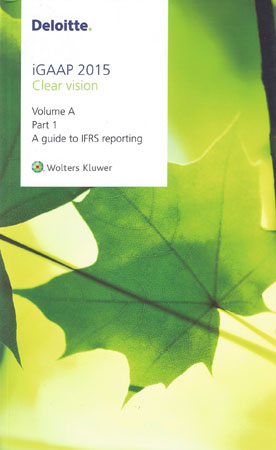 ISBN13: 9781847989741
Published: February 2015
Publisher: CCH Editions
Country of Publication: UK
Format: Paperback, 2 Volumes
Price: Out of print

Volume A Part 1: Introduction & A1 - A16
iGAAP 2015 A Guide to IFRS Reporting sets out comprehensive guidance for entities reporting under International Financial Reporting Standards (IFRSs). The book provides invaluable assistance by:-
focusing on the practical issues faced by reporting entities;
explaining clearly the requirements of IFRSs;
adding interpretation and commentary when IFRSs are silent, ambiguous or unclear; and
roviding many illustrative examples.
The manual deals comprehensively with those Standards issued by the IASB up to 31 July 2014 that apply for periods beginning in 2014 and later.
This volume of the manual (Volume A) covers all IFRSs other than those dealing exclusively with financial instruments, which are addressed in Volume B (for entities that have adopted IFRS 9 Financial Instruments) and Volume C (for entities that have not yet adopted IFRS 9).
It includes expanded guidance on the application of the most recent Standards and Interpretations from the IASB, including IFRS 15 Revenue from Contracts with Customers, which will affect the majority of entities applying IFRSs. In addition, iGAAP 2015 includes a new chapter on the developing area of Integrated Reporting.
iGAAP 2015 A Guide to IFRS Reporting is the ideal one-stop shop for entities reporting under IFRSs and for entities considering whether to move to IFRSs in the near future.
The authors from Deloitte have a wealth of IFRS financial reporting experience. They have produced a practical working manual that explains the latest global IFRS thinking. The resulting guidance is therefore an authoritative and practical reference work for all preparers and users of IFRS financial statements and their advisers.
This volume is part of a series of iGAAP 2015 publications. The companion volumes are:-
Volume B - which deals with the requirements of IFRS 9 and related Standards; and
Volume C - which deals with the requirements of IAS 39 Financial Instruments: Recognition and Measurement and related Standards (for entities that are not yet applying IFRS 9 or are applying IFRS 9 but choosing to apply the hedge accounting requirements in IAS 39).