The Impact of Union Citizenship on the EU's Market Freedoms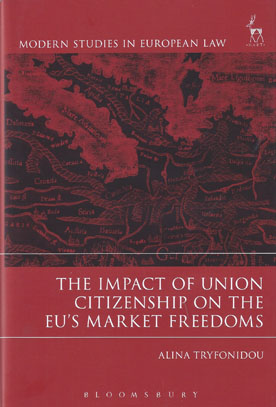 ISBN13: 9781849461672
Published: February 2016
Publisher: Hart Publishing
Country of Publication: UK
Format: Hardback
Price: £55.00

Despatched in 6 to 8 days.
The book's aim is to consider the impact that the introduction and development of the status of Union citizenship has had on the interpretation of the EU's market freedoms, providing a comprehensive and up-to-date analysis of the status of Union citizenship and its development from 1998 onwards, and an in-depth examination of the relationship between this status and the Union's market freedoms.
The central argument of the book is that, as a result of the move towards the creation of a meaningful status of Union citizenship, the market freedoms have been reconceptualised as Union citizenship rights and their interpretation adapted accordingly.
The second half of the book analyses the result of this process of constitutionalising the market freedoms and where it is likely to lead in future. It is shown that, despite the fact that this development appears to be the next natural step in the process of constructing a meaningful notion of Union citizenship, it brings with it a number of issues that the EU will have to consider and carefully address.
In particular, the method which the Court seems, up to now, to have employed to facilitate the metamorphosis of the market freedoms into citizenship rights, has led to criticisms on the grounds of legitimacy and coherence and will, undoubtedly, lead to further problems in the future. Hence the second half of the book also identifies the difficulties that may emerge as a result of this process and suggests ways in which they may be overcome.