Hearsay Evidence in Criminal Proceedings 2nd ed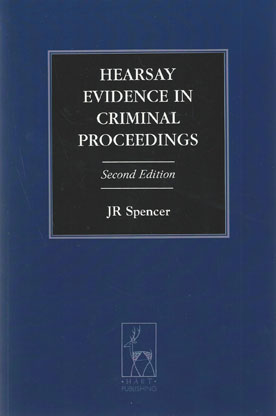 ISBN13: 9781849464635
Published: February 2014
Publisher: Hart Publishing
Country of Publication: UK
Format: Paperback
Price: £38.99

The Criminal Justice Act 2003 re-wrote the hearsay evidence rule for the purpose of criminal proceedings, enacting the recommendations of the Law Commission together with some proposals from the Auld Review.
In 2008, Professor Spencer wrote a book explaining the new law, intended for practitioners as well as academics. Following the style of his earlier book about the new law on bad character evidence, the core of the hearsay book was a section-by-section commentary on the relevant provisions of the Act, discussing the case-law that had interpreted them.
Since the appearance of the first edition, the new law on hearsay evidence has been the subject of a spectacular exchange between the UK Supreme Court and the European Court of Human Rights, the effects of which the Court of Appeal has interpreted in a several leading cases. In this new edition, the commentary is revised to take account of these developments.
As in the first edition, the commentary is preceded by chapters on the history of the hearsay rule, and the requirements of Article 6(3)(d) of the European Convention on Human Rights. It is followed by an appendix containing the text of the statutory provisions and a selection of the leading cases.