Law and Corporate Behaviour: Integrating Theories of Regulation, Enforcement, Compliance and Ethics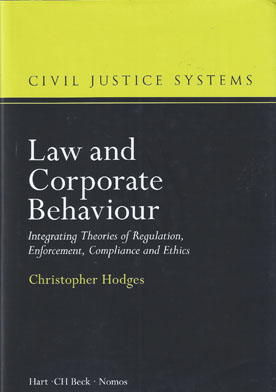 ISBN13: 9781849466530
Published: October 2015
Publisher: Hart Publishing
Country of Publication: UK
Format: Hardback
Price: £95.00

The purpose of this book is to examine the theories and practice of how to control corporate behaviour through legal techniques.
The principal theories examined are deterrence, (especially economic analysis), the findings of empirical research on responsive regulatory systems, and the findings of behavioural psychology research. Leading examples of the various approaches are given in order to illustrate the models: private enforcement of law through litigation in the USA, public enforcement of competition law by the European Commission, and the recent reform of policies on public enforcement of regulatory law in the United Kingdom.
Noting that behavioural psychology has as yet had only limited application in legal and regulatory theory, the book then analyses various European regulatory structures where behavioural techniques can be seen or could be applied.
The book concludes by proposing an holistic model for maximising compliance within large organisations, combining public regulatory and criminal controls with internal corporate systems and external influences by stakeholders, held together by a unified core of ethical principles.