Video: Do I Have to Talk to the Client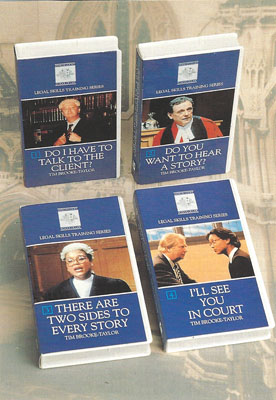 ISBN13: 9781854313003
ISBN: 1854313002
Published: June 1995
Publisher: Blackstone Press
Country of Publication: UK
Format: VHS Video
Price: Out of print

There is an increasing pressure on all professionals to be good communicators as well as good technicians. Yet many of the skills that enable us to interact successfully with people - personal communication, negotiation and interviewing - come from experience.
So, can experience be taught? Conventinal wisdom says 'no'. This new series of training videos from the Inns of Court School of Law sets out to prove otherwise.
With the dramatised examples used in these training videos, practitioners can begin to incorporate the 'golden rules' of communication in their own personal styles
Video 1. Do I Have to Talk to the Client
Tim Brooke-Taylor is the ill-prepared barrister, giving a comprehensive example of how NOT to talk to the client and the dire consequences of getting it worong. As the story unfolds, two professional barristers intervene and give advice on the do's and Dont's.
The end result is an effective and productive interview, where the client leaves with a positive impression of the law and a clear understanding of her situation.